Newest trends in the make-up – spring-summer 2016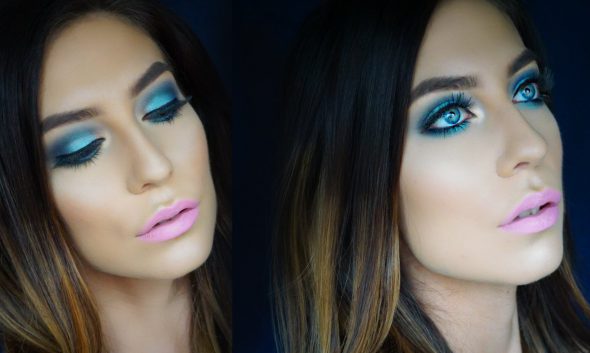 As usual with the beginning of the new year come new trends in make-up. Some trends have their big come back other stay the same. As always we have couple of variants that stayed without any change, but there are few surprises. What do stylists and make-up artists have to offer for spring season of 2016?
Blue paint stroke
It is most definitely the most courageous and artistic proposition introduced during Chanel show. Eyes painted in a pastel colours, especially blue colour around the eyes gives an impression of glasses or a mask. Eyelashes and contour without any highlight.
More soft sky-blue
Sky-blue in a much softer scene is proposed to us by Jonathan Saunders and Monique Lhuillier. Pastel and bright sky-blue applied around eyes or just on an eyelids is a 2016 proposition.
Pastel yellow
Third bold proposition in make-up comes from American cosmetic brand MAC. Very intense colours on the entire eyelid with great domination of pastel yellow, orange, lime and such.
Classical red lips
Don't fool yourself, classics never goes out of style. Red and wine-red doesn't go any where and intends to be the rightful queen of the 2016 spring, but only in pair with more subtle eye make-up.
Retro eyelashes
In spring-summer season this year we can expect big retro style come back, ruled strongly by highlighted eyelashes. Louis Vuitton show presented this trend in the best way by presenting fake, thick (a bit grotesque) and long eyelashes – the more interesting the better.
Rock star make-up
Spring 2016 is not only about pastels but also intensely emphasised eye. Metallic make-up (eye shadows in tones of grey and graphite), strong colours on the eyelids and some thick black eyeliner. You can combine it with bright foundation for pale face effect and for your eyes to truly pop.
Natural look
Last proposition comes straight from Chloe and Gucci catwalks and it is so popular past few years "no make-up" make-up. If you are not so courageous you can choose pastel beige and soft brown. Highlight your eyes in a subtle way and add some natural highlight to the cheekbones.