A Bath in a Rose Petals – Do Yourself a Treat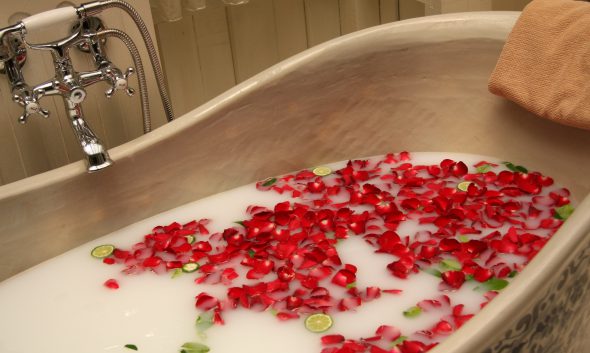 Relaxing bath is one of the best methods for relaxation after long day of work. For ages were known great properties of nourishing baths – even Cleopatra took regular baths and it is said that she owe to them her remarkable beauty. Should we follow her steps and prepare ourselves e.g. bath in rose petals? Undeniably, yes.
Why aromatherapeutic bath?
Aromatherapeutic baths with essential oils are great way for relax, nerve soothing and waking up or calming down (depends on used product). Properly prepared bath doesn't have to be only ordinary hygienic treatment, it can easily be turned into the moment of pleasure just for you. That is why it is so important to dedicate more time on rose petals bath and take care of the right mood, e.g. candles, some music.
Why rose petals?
As it turns out petals of red rose have lots of beneficial properties – tightening, antiseptic, moisturising, strengthening, regulating etc. Most of all, baths in rose petals provide you with large amount of nourishment, which is hard to deliver to skin even with very good body lotion. Rose petals in a bath ensure pleasurable tightening, skin cells regeneration, whitening of discolourations and healing of spider vines. The bath in rose petals is a good solution for problematic skin. Not many people knows that aromatherapeutic and nourishing rose petals baths are also very good for stimulation of collagen production, so they have anti-ageing and rejuvenating properties. As it was clearly stated bath in rose petals is a great support of mature skin care.
How to prepare rose petal bath?
This treatment is particularly recommended in the summer, but you can easily do that all year long. To filled with warm (not hot) water add nourishing ingredients – fresh petals of red rose, in a amount that suits you, essential oil (best will be rose) and optionally milk (cow, goat – as you like) rich in proteins, calcium and vitamins. Prepared this way bath will make your skin nourished and soft.