Nanoil Hair Styling Spray – Blow-Dry Your Hair Like a Pro!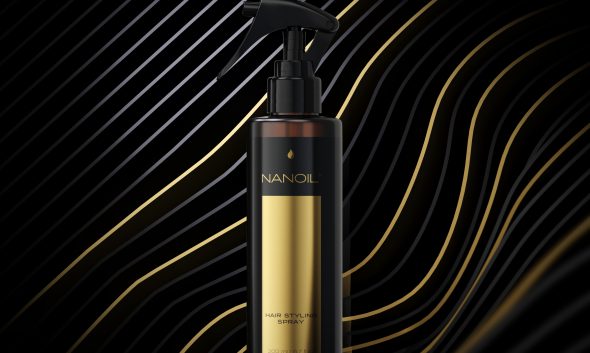 If your hair is unruly, stiff or coarse, and you usually struggle to create a nice style, then you should definitely consider getting yourself a good hair primer. Nanoil Hair Styling Spray will help you blow-dry easily, as well as let you extend the life of your hairstyle! Try it and feel like an expert stylist!
Nanoil Hair Styling Spray – unusual hairspray
Is your hair unmanageable and frizzy? Do you struggle to get a style that will stay flawless for several hours? It is a signal you need a good product for styling and manageability. Try a Nanoil Hair Styling Spray to do the hair like a pro! This cosmetic not only ensures perfect blow-dry effect but also safeguards the hair, strengthening and nourishing it every time you style it. Say goodbye to stiff, frizzy and non-stop tangling hair!
Nanoil Hair Styling Spray – hair manageability & nourishment
Do you know what makes Nanoil Hair Styling Spray unusual? It is the only product that acts as a hair primer as well as a spray for hold, plus it helps keep your hair healthy! The ideally-matched ingredients have been infused into the spray to nourish the hair and keep it from getting hurt. The formula includes castor oil (a lightweight form of it) which strengthens, and panthenol which has a strong nourishing and beautifying effect.
Nanoil Hair Styling Spray – endless benefits for your hair
Do you know why women are crazy about this hair primer? We've rounded up the most popular positives that pop up in many reviews:
It makes my blow-dry and heat-styling routine much easier but it neither overburdens the hair or makes it crunchy or sticky.
Nanoil makes my tresses look so lovely! It gives superb gloss and hold without the hated stiffness.
Nanoil Hair Styling Spray makes my hair smooth and soft.
It is a brilliant hair primer which improves the condition of hair at the same time!
It's cool for making a style last longer.
Nanoil Spray is good for stopping static flyaways and frizz.
How to use the styling spray by Nanoil?
This styling spray can be used in two ways:
as a hairspray – you spray it on dry hair for flexible hold.
as a hair primer – you spray it on damp hair and move on to blow-drying.
Nanoil Hair Styling Spray works brilliantly! It doesn't overburden the hair, give sticky strands like most hairsprays do or cause weird-looking stiffness. On top of that, the hair stays brushable and you don't risk pulling strands out while combing.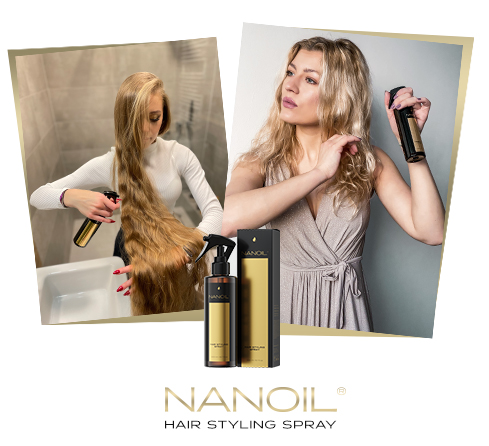 Nanoil Hair Styling Spray – availability
Ideally, get your spray through www.nanoil.us. Why? Firstly, you can be sure you buy from a reliable source. Secondly, you can count on price cuts on bigger orders. Thirdly, you can test other excellent items from the brand because Nanoil is more than hairstyling products. They also offer great micellar shampoos, hair masks and bi-phase conditioners. Check them out!