Linseed oil: properties, use and reviews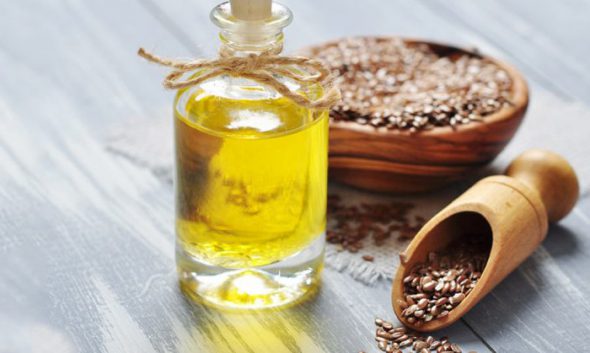 Linseed oil has a number of beneficial properties, and hence – a wide range of use. It is used in the food industry because it speeds up digestion and, as a consequence, helps to slim. Interestingly, linseed oil is a remedy for both constipation and diarrhea. In cosmetology, in turn, it is used as a means for cellulite, acne and pimples, dry skin and damaged hair. What other properties does flaxseed oil have?
Linseed oil INCI: Linum Usitatissimum (Linseed) seed oil
Linseed oil – composition
Linseed oil consists of:
omega-3 acid, which has a beneficial effect on the skin, hair and nails, and especially protects against UV radiation,
omega-9 acid,
omega-6 acid, which stimulates the growth of hair and skin cells,
unsaturated fatty acids,
vitamin E, or "vitamin of youth", which delays the ageing process of the skin and improves its color and elasticity,
proteins, potassium, zinc.
It should be noted that omega-3 and omega-6 are present in ideal proportions.
Linseed oil – properties and use in cosmetics 
Linseed oil can be used for the face, body and hair.
Linseed oil for face and body
When applied to the face, thanks to the high content of omega-3 acids, prevents acne and pimples, soothes irritated and dry skin, and also reduces skin changes, dark spots, swelling and wrinkles. Linseed oil can be used as a mask, which should be applied to cleansed and slightly damp skin. It's also considered effective means for removing make-up. Linseed oil used on the body has the same properties: strengthens the skin, protects it from dryness and irritation, and also helps fight cellulite.
Linseed oil for hair 
In order for linseed oil to improve the condition of your hair, it should be used at least twice a week, preferably at night. How to do it? Before going to bed, apply linseed oil to your hair and tie it in a loose braid. In the morning, it is recommended to wash your hair with a delicate shampoo. After about 3 months of such treatment, the condition of hair will improve in a visible way. On the basis of linseed oil, you can create a conditioner, mask and a hair rinse.
Linseed for hair – effects
Hair oiling with linseed oil should be used especially by women who struggle with dry hair. What's more, hair that is often exposed to colour-treating, straightening, blow-drying, etc., will also benefit from it. Linseed oil will supplement the deficiency of omega-3 acids, which makes the hair structure weak, it causes brittleness and split ends. Linseed oil will accelerate the growth of hair, and at the same time moisturize and improve shine. It plays an important role in removing dandruff, excessive hair loss and various scalp-related problems.
What hair type is linseed oil recommended for?
Linseed oil will work best for high porosity hair that is dry, damaged, brittle, lacks shine, and fall out excessively. Linseed oil will moisturise such hair, strengthen it and provide natural shine.
Linseed oil – price 
Linseed oil is considered one of the best oils for oiling hair because it contains a significant amount of fatty acids. The price we pay for linseed oil depends on many factors. Both refined and cold-pressed oils are available in stores. For hair care, we should choose cold-pressed and unrefined linen oil – and of course, the price of such oil will be higher. Linseed oil and its price depend also on the content of saturated fatty acids, the more it has, the worse for hair with high porosity.
Linseed oil – reviews
Regardless of the application method, linseed oil collects good reviews: it is suitable for both dry and acne skin, it effectively combats cellulite and improves the condition of hair. LInseed oil owes all the good opinions to its versatility: it perfectly nourishes hair both high and low porosity.