Here's Your Next Must-Have Hair Product: Heat Protection Spray From Nanoil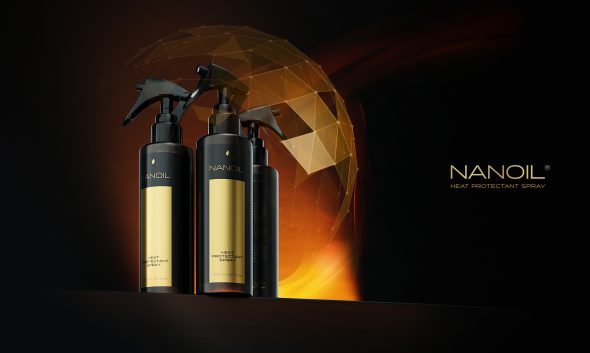 If you don't use a heat protectant, then you (either consciously or not) expose your hair to awfully serious damage. This is one of the main reasons why your hair loses keratin and becomes dry, brittle and splits. Using hair masks won't do much if you keep frying your hair with a blow dryer or flat iron on a regular basis. That's why we'd like to present to you your next must-have hair care product, which is a thermal spray brought out by Nanoil. Keep reading to learn what effects it creates and why it's worth having this product in your beauty product arsenal.
High temps are one of the key factors leaving the hair in a miserable condition. Naturally, if you don't blow dry your hair more often than once a month, then you don't have to worry. However, most women reach for heat-styling tools almost every day. Such a hair routine brings no good, leading to damages that even the best hair mask isn't be able to reverse.
Fortunately, it doesn't mean that you should now run to your bathroom and throw away your blow dryer, flat iron and curling rod. There are some products that are perfectly able to protect your hair from the negative impact of such tools. And on top of that, these products happen to be budget-friendly. One of such cosmetics is Nanoil Heat Protectant Spray. Carry on reading to learn more about this marvel.
Nanoil Heat Protectant Spray: The formula ideal
Being water-based, this spray is super easy to use and absorbs into hair in a snap. You won't find any oils in its formula, meaning that Nanoil Heat Protectant Spray is suitable for all hair types, even if thin or heavy. You don't even need to bother about losing volume or getting limp hair because you will see neither of these adverse effects, which are common to other similar products. Owing to the convenient spray head, the application is nothing but sheer pleasure.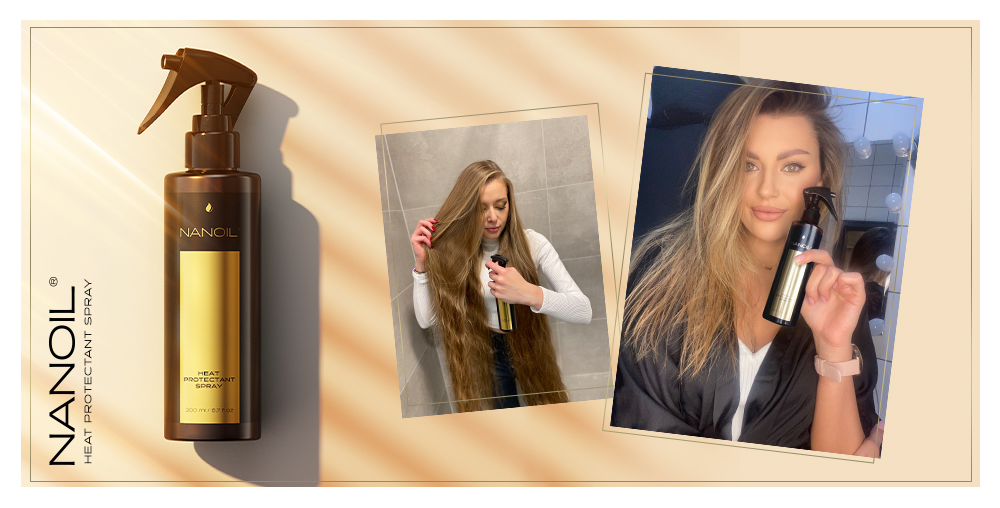 Effects of Nanoil Heat Protectant Spray
Nanoil thermo spray provides protection up to 220 °C, which is a lot! Even though we shouldn't expose our hair to such extreme temperatures, Nanoil Heat Protectant Spray will keep the strands safe.
Apart from that, Nanoil heat protectant spray leaves hair shiny, soft, resilient and easy to style. Some of you may like to hear that this spray also makes hair sleek and resistant to frizz.
Application of Nanoil Heat Protectant Spray
The good news is that you can apply this product to dry or wet hair – it's really up to you. First, however, we suggest combing the hair and then following with the spray. Try to spritz the strands evenly with the product, holding the bottle approximately 6 inches away from your head. It takes just a few seconds for Nanoil Heat Protectant Spray to dry out so you can quickly move on to creating the hairdo you want to wear on a particular day.
Where can you buy Nanoil Heat Protectant Spray?
We suggest visiting the official Nanoil website – nanoil.us – to order the original and genuine Nanoil Heat Protectant Spray. If you do this, you can be certain that the product will be delivered fast. Also, you can be sure that the item is properly secured so that it won't get damaged during shipping.