Face cleanse step by step. Are doing it right?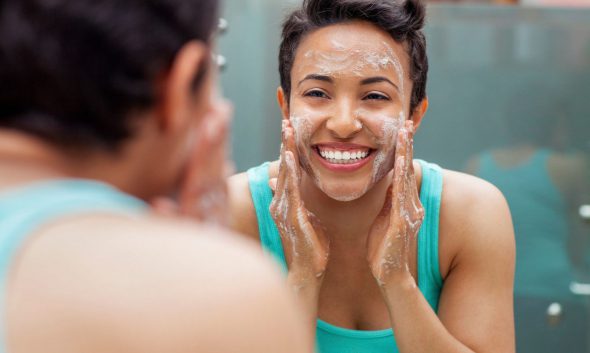 We cleanse our face almost every day, and we think that there is nothing that could possibly surprise us about it. It's simple – you need to remove make-up to get rid of germs. Things get complicated when we have to choose cosmetics for it and we have wide spectrum of choice. Gel, tonic, water, soap? What should we choose to efficiently cleanse our face? How to cleanse our skin?
Firstly, effective make-up removal
First step towards effective cleanse is make-up removal. Our market is filled with all kinds of make-up removal cosmetics. Most effective and strongly recommended is micellar water, which active ingredients link with make-up, dust and sebum and cleanse our face not only out of cosmetics (even those waterproof) but also of the impurity layer. We can of course always use some cleansing balm or two-phase make-up remover.
Relevant is also a make-up removal technique and its efficiency. Product on the cotton pad should be applied gently on the face, avoid rubbing (especially eyelids and eyelashes). Cleanse your face very mildly with the cotton pad and keep it for a moment longer on the eyelid for a make-up to dissolve, so you could remove it in one downwards slide towards your nose.
Secondly, proper face wash
Too many women finish evening cleanse on make-up removal. It is a matter of lack of time, proper cosmetics or just their ignorance. Make-up removal will clear away only outer layer of impurity. After that face should be washed with face gel to clear pores and ease cosmetics absorption.
Thirdly, face scrub

Sometimes it is worth to support natural epidermis regeneration with some scrub. It is a great way to prepare our skin for absorption of nourishing components. Scrub is optional and can be performed once in 1-2 weeks.
Fourthly, balanced skincare
Cleansed face with open pores is very absorptive. It would be best if skin absorbed all the nourishing components, e.g. from tonic. Tonic will restore natural ph balance of our skin, tighten pores and assure matt skin (very important for people with oily and acne skin). At this point you can also apply some moisturising cream.