Micelles and keratin for beautiful hair – Nanoil Keratin Micellar Shampoo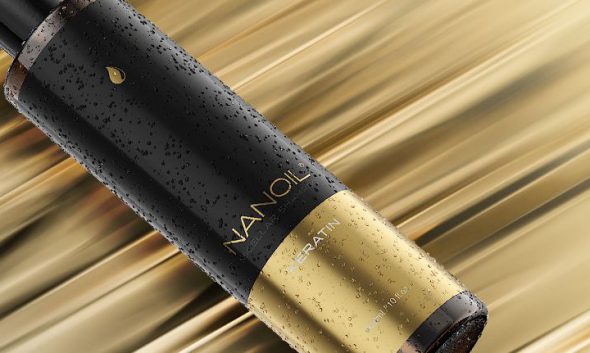 When we think of beautiful hair, we imagine shiny, fresh and well-maintained strands. For this reason, many women do not want to use aggressive shampoos that dry out their hair strands – and they're right! A good solution is Nanoil Keratin Micellar Shampoo which cleanses the hair gently, moisturises and does not irritate the scalp.
Fresh hair is what everyone dreams of. However, shampooing the head daily with intensive cleansing shampoos is not a good solution. Such products can be very aggressive and wash out natural nutrients that are responsible for the health of the hair and scalp. Such an approach not only leads to damaged hair but also to scalp irritation. As a result, you get an itchy or burning scalp, sometimes dandruff, seborrhoea or eczema. Save yourself these problems and reach for a special product developed by hair care professionals – Nanoil Keratin Micellar Shampoo.
Micelles – best weapon in the fight for clean hair and a healthy scalp
The Nanoil brand once again comes to the rescue of those who want to take care of their hair and scalp wisely. Nanoil offers a micellar shampoo enriched with a large dose of keratin. The secret of its effectiveness is micelles – microscopic molecules responsible for removing all kinds of impurities from the hair surface. Like a magnet, they collect not only excess sebum and residues of hair styling products (including those based on silicones) but also pollutants from the environment, such as dust contained in city smog. Micelles bind all impurities, which are consequently easily removed when the shampoo is rinsed out. The micellar shampoo does not disturb the scalp's hydro-lipid barrier at all but moisturises it and restores its natural balance. It soothes the scalp in case of any problems and does not leave behind any unnecessary substances. For this reason, micellar shampoo can be used as often as necessary, even every day. It is also recommended for people with colour-treated hair because it does not wash the colour out of the strands. Regular use of the shampoo will make your hair clean, smooth and easy to style.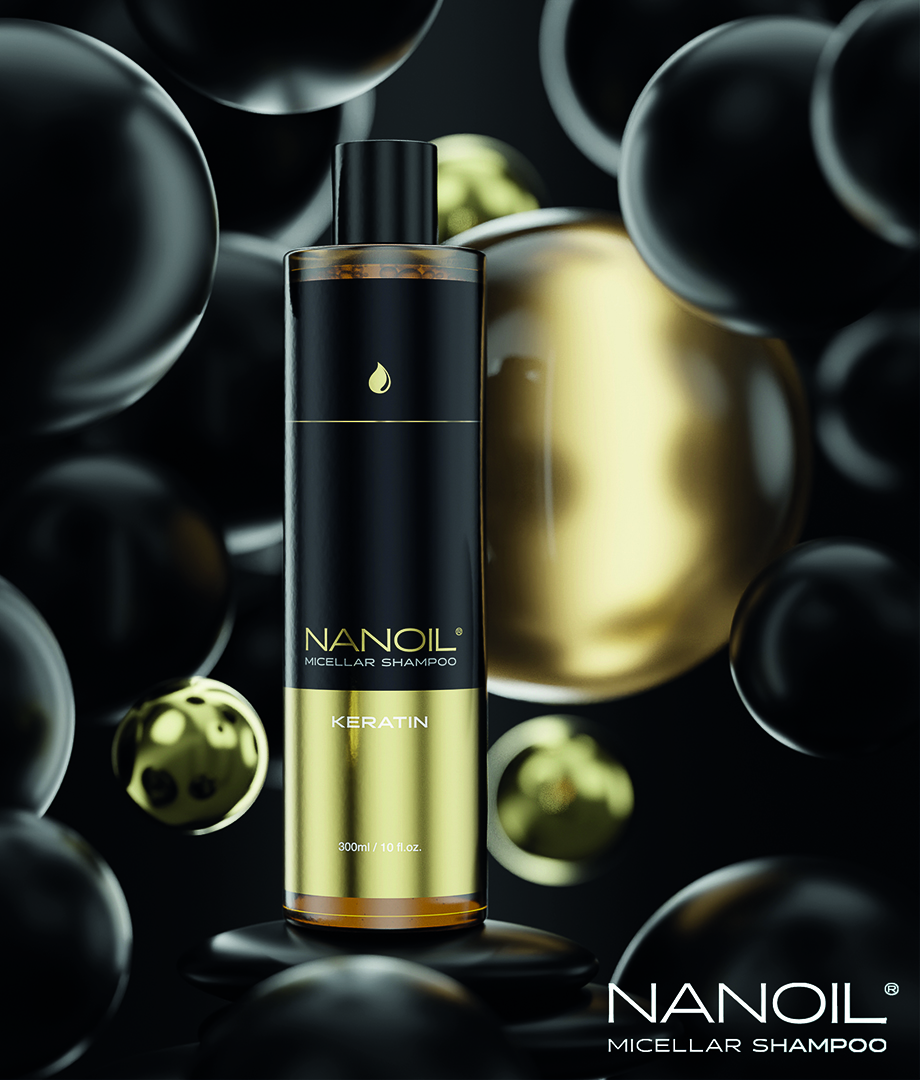 Keratin for nourished, shiny hair
The thoroughly cleansed hair is additionally influenced by keratin. Its hydrolyzed form contained in the Nanoil micellar shampoo, repairs damage in the hair shaft perfectly and rebuilds the hair structure. It forms a so-called occlusive layer on the hair surface, i.e. envelops the hair with a protective, natural film and thus prevents water loss. As a result, the hair strands are no longer dry, frizzy or static. They are also much more prone to styling. Keratin has a beneficial effect on hair that has been damaged by straightening, blow-drying, colouring or bleaching. Immediately after the first application, the hair is easier to comb. It also becomes light, soft and feels more pleasant to the touch.
In the Nanoil Keratin Micellar Shampoo, keratin goes in pair with castor oil, which nourishes the scalp and ensures proper hydration of the hair strands. The effect is that you get hair full of shine and suppleness.
Nanoil Keratin Micellar Shampoo – effects
cleanses the hair and scalp gently and effectively at the same time;
does not disturb the natural pH level;
does not make the scalp dry or irritated;
helps to regenerate the hair;
is the first step towards effective hair care;
protects the hair from harmful factors;
smoothes the hair strands and adds shine;
protects the ends of the hair from split ends.
Nanoil Keratin Micellar Shampoo – where to buy?
Nanoil Micellar Shampoo with Keratin is accessible on the website nanoil.us with fast home delivery. In elegant packaging, you will find many beneficial ingredients of high quality at an affordable price.