See 4 Top Castor Oils! Learn Their Benefits for Hair and Skin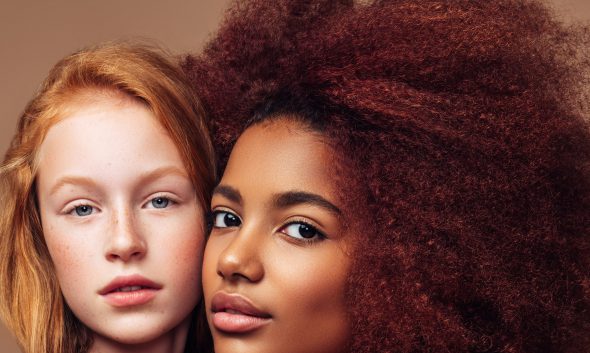 It's recommended for improving the appearance of hair, growing long lashes, and being used as a natural alternative to a makeup remover. Indeed, nowadays castor oil seems to be one of the most popular cosmetic oils used by a growing number of people. Since there are plenty of castor oils available, some may find it difficult to make up their minds and choose the product that would live up to their expectations. Are you one of those customers bewildered by the wide choice of castor oils? No worries! In this article you will find four best and natural cosmetic oils extracted from Ricinus.
Castor oil is celebrating its big comeback. More and more people are now discovering what their grandmas and great-grandmas knew back then when they were preparing hair masks using egg yolk and the very castor oil. It can't be denied, it's now more common than ever that the amazing properties and benefits of castor oil are being recognized worldwide.
A few pieces of information on castor oil
What is the source of castor oil? This magnificent oil is extracted from the seeds of Ricinus, also known as the castor bean, which is a plant commonly grown in home gardens around the world.
Looking at its beautiful red fruits, few may suspect that they hide the seeds being so incredibly rich in good fatty acids, such as ricinoleic acid. The seeds also hide many vitamins, minerals and phytosterols. However, you can expect castor oil to offer you all of these essential nutrients only when its quality is high. What does it mean?
In order to improve your appearance, you should use no other but only cold-pressed castor oil. Other extraction processes, particularly those using high temperatures, destroy and strip the oil off its precious nourishing substances.
On top of that, if you manage to find a bottle of castor oil that is unrefined, natural and organic, which in fact should be certified (e.g. ECOCERT), then you can be certain that it will not only serve you well but also live up to your expectations. Only then can you apply it safely to hair, face, eyelashes, eyebrows and even fingernails, and be positive that it will get you all the effects that genuine castor oil is supposed to give. What effects in particular? The list of benefits that castor oil has for hair and skin is so long that it deserves to be given a separate paragraph.
What are the benefits of castor oil use?
The applications and properties of castor oil seem to be discussed and brought about by natural care lovers more and more often, which is perfect because this plant oil happened to be treated like an unsung hero for definitely too long. Although the medicinal properties of castor oil are still in use, its benefits for hair and skin appeared to be an untold story. Fortunately, it's all changing now. Today castor oil is perceived as one of the best-selling cosmetic oils. There are plenty of people who use genuine castor oil as a natural beauty product to treat their hair, skin, fingernails and eyelashes on a day-to-day basis.
Applying castor oil systematically, you get more than just a cheap replacement for common beauty products that drugstores are full of. What you get are the incredible and amazing effects that include:
accelerated hair growth.
fuller-looking eyelashes and eyebrows.
reduced number of hair that falls out in an uncontrolled manner.
less problems with complexion.
successful acne treatment.
strong fingernails.
resilient and lustrous strands.
flawless and deeply cleansed face skin.
The best castor oils (TOP 4)
Whether you achieve the desired effects depends on the oil you choose. Fortunately, you don't have to look any further because here are the best castor oils selected just for you. See four finest castor oils that will never let you down. Get to know them better.
1. Castor oil Nanoil
Size: 50 ml
INCI: 100% Ricinus Communis Seed Oil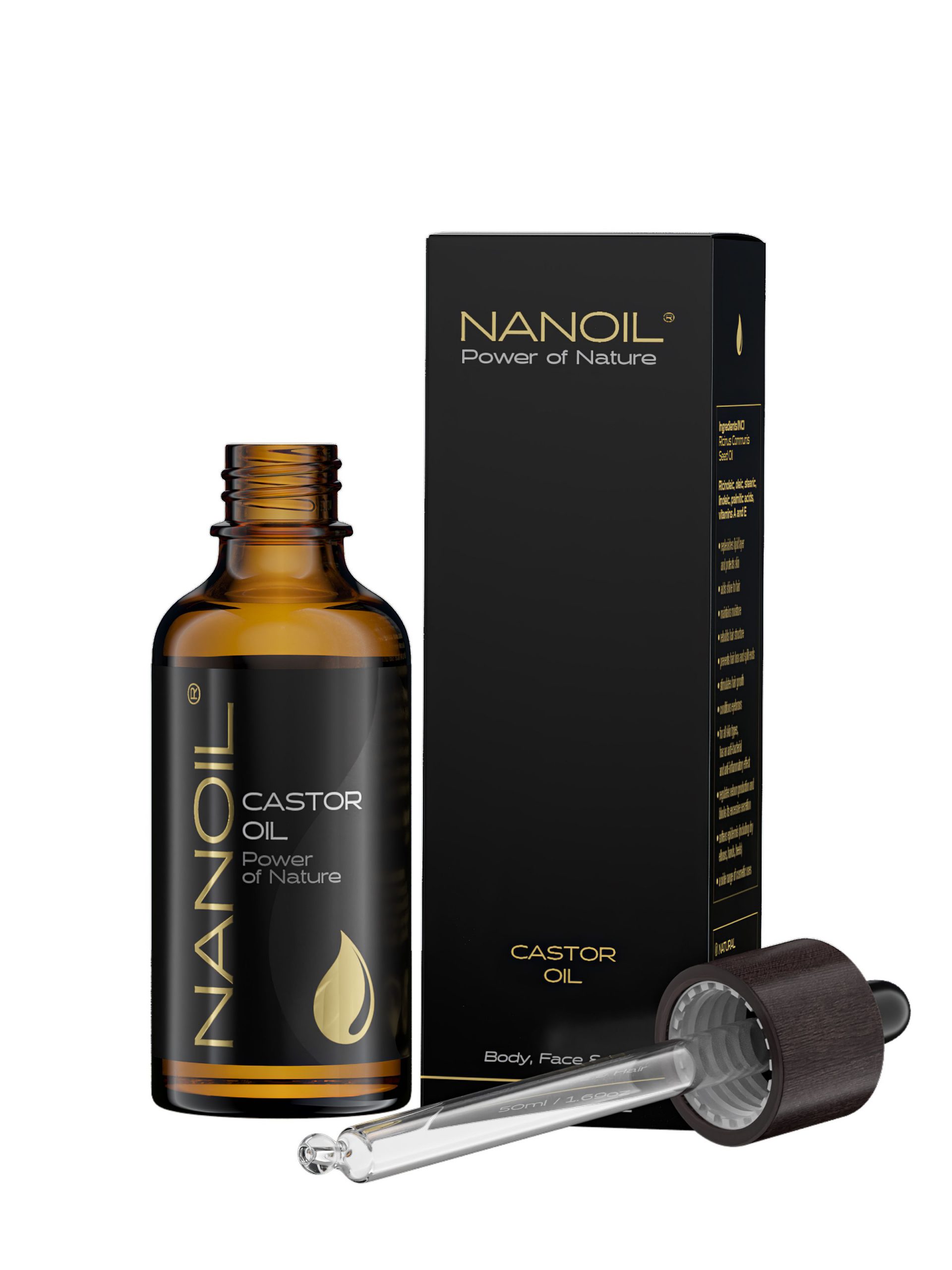 The best multi-purpose castor oil is this cold-pressed, unrefined and organic castor oil from Nanoil, whose high quality is certified by ECOCERT. One of the best things about this product is the fact that it wasn't tested on animals, and this quality makes it a product suitable for vegans. Additionally, Nanoil castor oil doesn't contain any additives so it can be safely used by people with hyper-reactive skin. Definitely, this is the best oil promoting lash and brow growth, it stimulates hair to grow longer and prevents thinning. It's also suggested to apply Nanoil castor oil to skin to soften it, deliver water to the driest patches, reduce acne and restore balance to the skin. Closed in a gloss bottle with a dropper, this oil is saturated with precious nutrients. Last but not least, Nanoil Castor Oil is super lightweight – it penetrates skin quickly without clogging pores. More information concerning this genuine castor oil available at www.nanoil.us.
2. Castor oil Briogeo
Size: 45 ml
INCI: Organic Cold-Pressed Castor Oil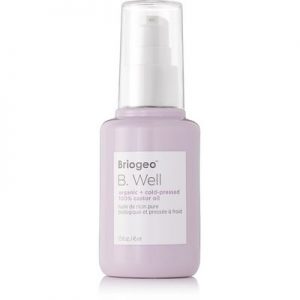 Cold-pressed and organic castor oil B. Well from Briogeo definitely isn't the cheapest solution, yet it's surely one of the most effective ways of dealing with common beauty concerns. What's interesting, this product doesn't resemble the majority of natural plant oils available in drugstores because instead of being sold in a bottle made of dark glass, this oil is closed in a pink phial with a white label on it and a white dropper. It's worth pointing out that there is less product in the packaging so you shouldn't expect the oil to last you long, especially that it's recommended to be used to treat hair (mainly dry, fine, brittle and splitting), the scalp, face skin, eyebrows and eyelashes. The fact that this castor oil can be applied to so many body parts is a huge plus, however, this also means that you will probably run out of it pretty fast.
3. Castor oil Satin Naturel
Size: 200 ml
INCI: Ricinus Communis Seed Oil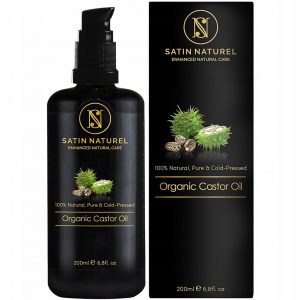 Organic Satin Naturel castor oil is manufactured in Germany, however, its composition is entirely made up of cold-pressed, pure castor oil from India. Its price is rather high, but it's worth pointing out that this oil is sold in a 200-ml bottle, meaning that it offers a few times more product than similar cosmetics. Castor oil from Satin Naturel comes with a pipette to help you get as many drops of the product as you intend to use per application. Additionally, this oil is suitable for vegans and those who prefer using natural beauty products. In general, Satin Naturel castor oil offers an universal solution for treating dry skin, brittle nails, scalp psoriasis and damaged hair. It softens, strengthens and helps maintain hydration.
4. Castor oil Avril
Size: 100 ml
INCI: Ricinus Communis (Castor) Oil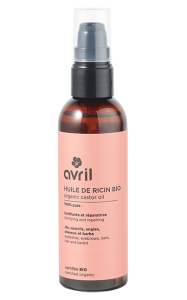 Castor oil offered by Avril is an eco- and vegan-friendly product destined for treating all hair types (including eyelashes, eyebrows and even beard), nails and cuticles. Its composition lacks additives, meaning that all the benefits that are given by this product are owed to pure castor oil, originating from organic farming. This plant oil can be used instead of regular lash and brow conditioners, but that's not all. Also, you can apply Avril castor oil as a conditioner for brittle nails as well as a cuticle softener. It's also a good idea to spread the oil on the hair from time to time, instead of a regular hair mask. As far as the effects go, Avril castor oil strengthens, speeds up growth, helps hydrate and protect. The last advantage is that this oil is sold in a bigger bottle than majority cosmetic oils. It also comes with a convenient dropper that facilitates measuring even portions of the oil.