Celebrity-Favorite Face Serums for Redness That Won't Ruin Your Budget!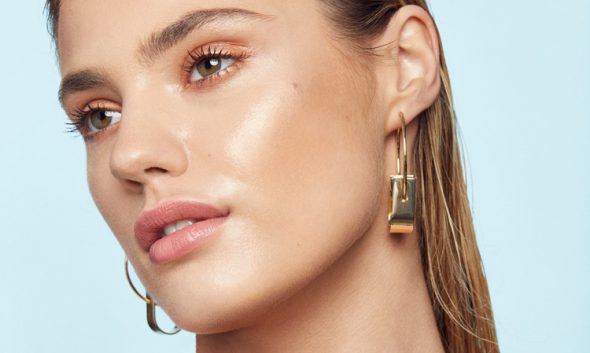 Flawless, smooth and glowing skin is one of the celebrity qualities we wish we had. What's their secret to the perfect look? A face serum that handles many skin concerns – even broken capillaries! To help you achieve this beauty goal, we've prepared a list of affordable face serums that celebrities swear by. We're sure you'll fall in love with these offerings!
It's believed that celebrities and TV stars wouldn't look amazing if it wasn't for the numerous plastic surgeries and beauty treatments that they expose their bodies to on a regular basis. Sometimes, however, reaching for the right skincare product suffices to get the impeccable complexion that the rich and famous are known for.
Face serum – the secret of flawless complexion
One of the essential skincare products that celebrities use on a day-to-day basis is a face serum. While most of us apply face creams, the rich and famous use the power of lightweight formulas saturated with the finest nutrients. Among the numerous benefits, there are two big advantages of face serums that are worth pointing out. First, this care product has an ability to penetrate through epidermis to reach the deepest skin layers. This means that it fixes skin from within. Another plus is a large concentration of caring agents that each bottle of face serum has. These two features make it a highly effective product that brings you closer to getting flawless and clear complexion without spending money on costly procedures and visits at a beautician's.
Redness/spider veins and a face serum
The good news is that a face serum is perfect even for problematic and sensitive skin that is prone to redness and spider veins. There are formulas that apart from improving the appearance of skin by refining its texture and making it more supple, are also designed to target common problems affecting couperose skin (e.g. broken capillaries).
And these are the very formulas that celebrities use on a daily basis. They treat their skin with natural plant extracts that the best serums are formulated with. This helps them keep their complexions smooth and clear. After all, there is nothing worse than bad-looking and reddened skin on the red carpet!
BEST FACE SERUM FOR REDNESS AND SPIDER VEINS
We've checked which face serums marketed for handling redness and spider veins celebrities reach for the most often. After doing research, we've selected 4 products that are a part of their beauty routine, which can be easily implemented to your daily regimen.
No. 1 NANOIL ANTI-REDNESS FACE SERUM
Size: 1.69 fl. oz / 50 ml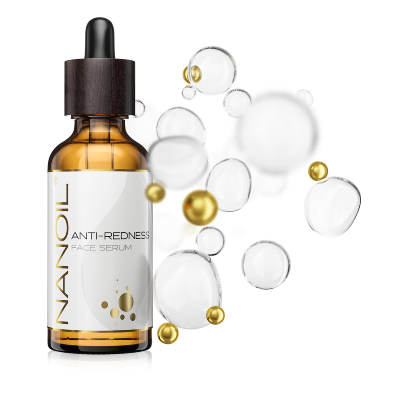 One of the top-rated face serums for redness and spider veins is Nanoil Anti-Redness Face Serum. Containing four naturally-derived plant extracts, this skincare product is proven to bring instant relief and satisfy the needs of sensitive skin in a speedy manner. Chestnut extract strengthens the walls of capillaries, thus preventing them from breaking. Linden tree extract soothes irritated skin and reduces inflammation. Indian Punarnavra rejuvenates and combats free radicals. Finally, cypress cone extract maintains hydration, repairs and provides protection. All four extracts are blended together to create the ultra-lightweight water-based face serum that delivers promised results after just one application. Use it regularly on a day-to-day basis for 3-4 weeks to see visible skin improvement.
Biggest pluses:
Ideal blend of plant-based extracts.
Ultra-lightweight, water-based and fast-absorbing formula.
Feeling of relief and fresh skin after just one use.
One product to deal with all sensitive/problematic skin concerns.
Great value for so many benefits.
For more information visit www.nanoil.us
No. 2 REN EVERCALM ANTI-REDNESS SERUM
Size: 1.69 fl. oz / 30 ml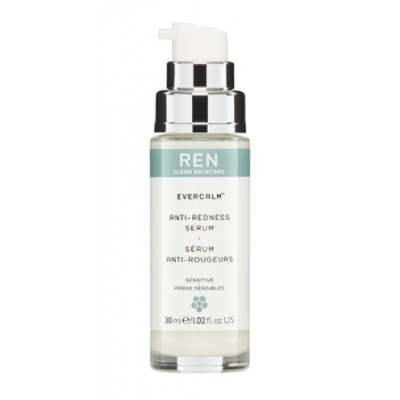 Evercalm Anti-Redness is a serum that came into existence to soothe and target the problems of irritation-prone skin with blemishes. It reduces redness, which is one of the ageing symptoms, but most of all this serum locks moisture and evens skin tone. On the very long list of ingredients you can find milk peptides, oligosaccharides, hyaluronic acid, wild sorrel, sea algae, yeast extract, etc. Since the face serum has so many components, it's advised to run a patch test before introducing it to the regular beauty routine – this will help you stay away from irritation. This anti-redness serum brought out by REN prevents premature ageing, strengthens the walls of capillaries, as well as provides protection and long-lasting relief.
Biggest pluses:
Formula destined for hyper-reactive skin.
Convenient packaging that comes with a dropper.
A blend of ingredients developed in a laboratory.
Rejuvenation and protection in a single step.
No. 3 PAI INSTANT KALMER REDNESS SERUM
Size: 1.69 fl. oz / 30 ml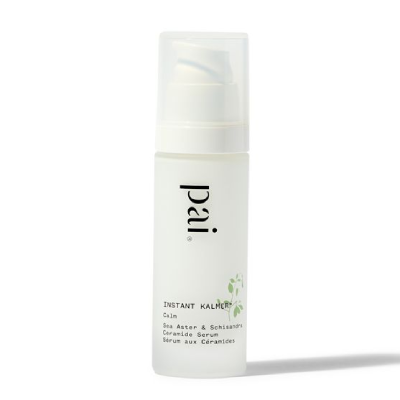 This luxurious serum for redness PAI Instant Kalmer seems to be a perfect offering for vegans. It's made only from plant-derived ingredients, has eco-friendly packaging and is made in the sustainable fashion. The most important, however, is the result the serum delivers. And this is a really good serum for redness-prone skin because it brings relief and erases discoloration. Made from sea aster and red Magnolia Berry, this lightweight care product cools reactive skin down and boosts hydration. Vitamin E, safflower oil and orange water increase this serum's potential. Indeed, this is one of the most interesting – but the costliest – offerings for redness-prone skin.
Biggest pluses:
Eco-friendly packaging and vegan formula.
Intriguing combination of plant-based ingredients.
Suitable for redness-prone and sensitive skin.
Reduced irritation and improved hydration.
No. 4  LA ROCHE-POSAY ROSALIAC AR INTENSE SERUM
Size: 1.40 fl. oz / 40 ml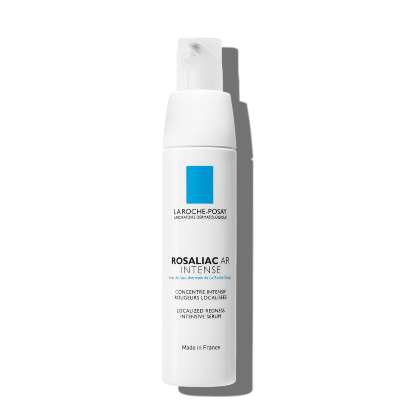 French brand La Roche-Posay happens to be another top pick of those whose skin is easily irritated and redness-prone. It's known for bringing relief, reducing redness and eliminating the burning sensation. This effect is owed to the ingredients like thermal water and polyphenol-rich tambourissa trichophylla leaf extract. Even though the list of ingredients is short, it doesn't contain many plant-derived extracts which may be a little disappointing for all natural care fans. Still, La Roche-Posay Rosaliac AR Intense serum soothes reactive skin and prevents inflammation. It's a non-greasy formula that needs to be applied to the face and neck twice a day, morning and evening.
Biggest pluses:
Gel texture that cools skin down.
Developed to satisfy the needs of sensitive skin.
Based on thermal water to bring relief.
Aid for redness-prone skin.