Best Products to Keep Your Hair Safe as You Style It With a Flat Iron. We're Reviewing 5 Heat Protectants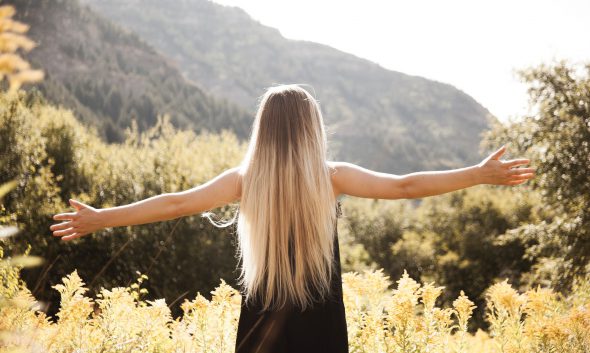 Use of a flat iron seems to be an essential part of most women's daily hair routine. Smooth and sleek, hair simply looks better and helps us look well-groomed. The sad truth is that the abuse of the heat styling tool brings more harm than good – it deprives hair of water, causing brittleness and serious dehydration. To avoid this adverse effect of straightening, you should turn to a heat protectant spray. Why is that? Because only this product is able to shield your delicate hair from the extreme temperatures. Using heat protectants is an absolute must if you often expose your hair to heat.
Having such a huge arsenal of heat protectant sprays in drugstores is both a course and a blessing. How will you know that the product you're holding in your hand is right for you? How can you be sure that it delivers promised results? This is why we've created the following ranking of the best heat protectants, so you don't need to test all the products on your hair.
Do you really need a heat protection spray?
Lustrous and smooth is what most of us would like its hair to be. To reach this goal we run the hot plates of a flat iron along the strands every morning. And even though the effect is achieved, it doesn't last. Soon the hair will turn brittle and dull. Why? Simply because the heat deprives hair of moisture. It should be also realized that the high temperatures are also infamous for making keratin bonds weaker, which leads to spilling and damage. Furthermore, when exposed to heat, cuticles rise, leading to frizz and tangling.
To put a stop to the negative impact that a flat iron clearly has on all hair types, you need to introduce a heat protection spray to your daily hair ritual. And to make choosing the right product easier for you, we have tested five most popular heat protectants that keep the hair safe as you straighten it. We analyzed their formula and the strength of protection. Which product turned out the best? See below.
RANKING Heat protection sprays to use before straightening
There is one feature that all heat protectants have in common – they promote smoothness and shine. When applied correctly, isolate the hair so the heat doesn't inflict any harm on it. Some of them are also able to fix the style that you create.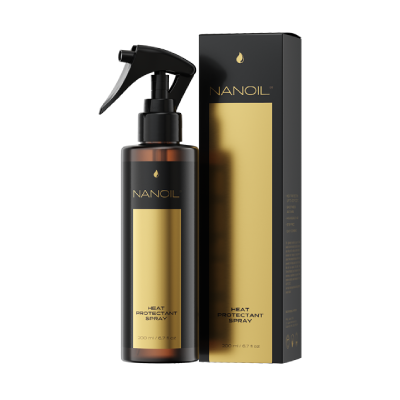 #1 Nanoil Heat Protectant Spray
size: 6.76 fl. oz / 200 ml
This one can be used to keep hair safe no matter the source of heat it's exposed to. Creating a protective coating, Nanoil Heat Protectant Spray not only isolates hair from the heat produced by a blow dryer or a flat iron but it also smooths out the cuticles, so hair doesn't lose moisture. Formulated silk proteins, this product reverses damage in hair – simply put, it leaves hair healthier and more resistant to external aggressors. Interestingly, when coated with Nanoil Heat Protectant Spray, hair becomes shielded also from UV light and dry air, both contributing to brittleness and loss of shine. Now with just one product you make your hair protected and visibly better-looking. How strong is the heat protection? The producer promises that temperatures reaching 440°F or 230°C will cause no harm if you spray it with Nanoil Heat Protectant Spray before styling. No need to worry about flat or oily hair because this spray is far from messing up with the style. This is definitely one of the most cost-effective heat protectants.
You can access more information about the product on the official Nanoil website: nanoil.us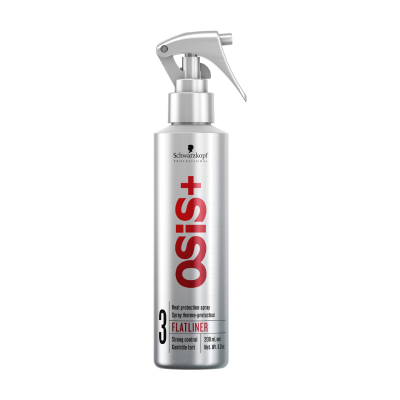 #2 Schwarzkopf OSIS+ Flatliner Heat Protection Spray
size: 6.76 fl. oz / 200 ml
Reach for Schwarzkopf OSIS+ Flatliner if you're looking for something to help you create long-lasting styles with a flat iron. You can be sure that this spray will make your hair sleek for long hours, even if you're going to spend time in some humid places. The polymers included in this Schwarzkopf Heat Protection Spray are proven to create a shield that combats high temperatures reaching 440°F or 230°C. Another positive thing about this heat protectant is the moisturizing effect it has on the strands, and this minimizes the problem of brittleness. As for the application, you can put it either on damp or dry hair – as you prefer. A large bottle will last a long time, but the price is quite high.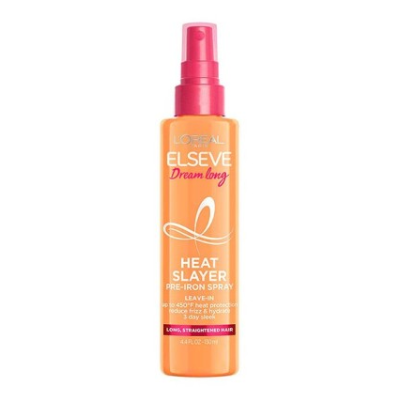 #3 L'Oreal Elseve Dream Lengths Heat Slayer Pre-Iron Spray Leave-In
size: 5.27 fl. oz / 150 ml
This product is designed to maintain the effects of sleek and shiny hair for 3 days. It's mainly recommended for long and damaged strands. The no-rinse formula actually is pretty good at leaving hair smooth and frizz-resistant for really long. When it comes to the ingredients, L'Oreal Elseve Dream Lengths Heat Slayer Pre-Iron Spray Leave-In contains vitamins, proteins and castor oil, and that's why it's able to make your hair soft and pleasant to the touch. The same ingredients are also responsible for dealing with tangles and splitting. And obviously, they protect the hair from the high temperatures that hot styling is connected with. You can find Dream Lengths Heat Slayer Pre-Iron Spray in almost any drugstore.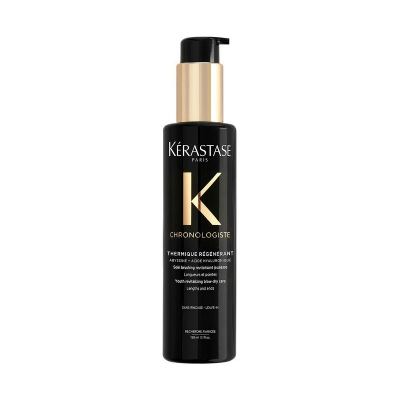 #4 Kerastase Chronologiste Thermique Regenerant
size: 5.27 fl. oz / 150 ml
Here's another professional hair care product designed to provide heat damage protection. It also improves hair's texture, so it looks better and becomes easier to style. Kerastase Chronologiste Thermique Regenerant smooths out the cuticles, leaving hair smoother, shinier and moisturized. What is this amazing formula made from? It contains hyaluronic acid, abyssine and vitamin E, and that's why it's able to shield the hair even if the temperature reaches 440°F / 230°C. And if you need some agents to keep your tresses from frizzing, then it's another reason why you should reach for Chronologiste Thermique Regenerant. Even though Kerastase has so much to offer, the cost per bottle is pretty high, which is why most users carry on looking for cheaper, yet equally effective solutions.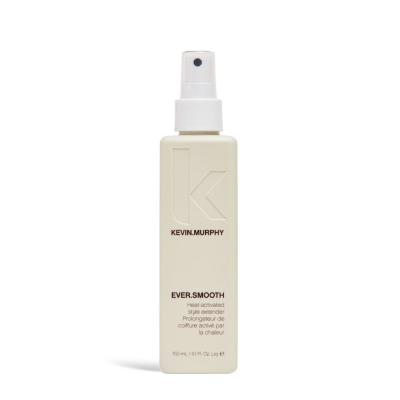 #5 Kevin Murphy Ever Smooth
size: 5.27 fl. oz / 150 ml
This one shows off its whole potential when exposed to high temperatures. What can it do? For example it leaves hair smoother and resistant to high humidity, which is great news for those of you who have problems with frizz. Kevin Murphy Ever Smooth is a lightweight formula that increases hair manageability, allowing you to create natural-looking finish. The list of ingredients looks promising because it contains tree bark extract mixed with white cypress and blue cypress. No parabens or sulfates though, which is another big plus to mention. In our opinion, Kevin Murphy Ever Smooth is a really great product, but it could cost less.