Best Vitamin C Skincare Products. 5 Top-Rated Face Serums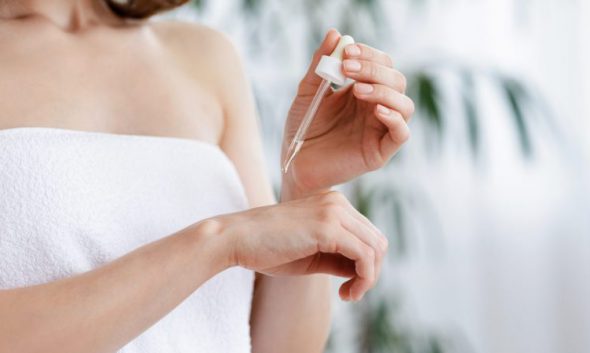 Vitamin C – according to cosmetologists, this nutrient has no equal. Many studies have shown that this precious vitamin is perfectly capable of visibly improving your skin! It's priceless and essential at all ages and for all skin types, leaving every complexion looking stunning, radiant and smooth. Do you want to fight off wrinkles and discoloration so that they won't blemish your skin after 30? Introduce a good vitamin C face serum to your skin routine then. Not sure which skincare product to pick? No worries, we've got your back on this! Read on to see the list of the top-rated vitamin C face serums.
Vitamin C: What can you get from it?
A face serum formulated with the right form of vitamin C brings nothing but benefits. Regularly applied, vitamin C:
Reduces wrinkles and delays ageing.
Evens out skin tone and leaves it brighter.
Aids in erasing pigmentation spots.
Stimulates collagen synthesis in skin.
Strengthens the walls of capillaries.
Removes discoloration.
Is antibacterial, thus fights off acne.
Provides sun protection
Deals with the adverse effects of oxidative stress.
Forms of vitamin C in skincare products. Which one is the best?
It's important to find the skincare products that are formulated with the right form of vitamin C. Why is that? Because not all types of vitamin C deliver the same effects. For example, l-ascorbic acid, which is the basic form of vitamin C, works wonders but only in special laboratory conditions. Sadly, when incorporated into skincare products, l-ascorbic acid oxidizes fast which means that only traces amounts of vitamin C reaches the skin. This huge obstacle as well as the mentioned instability forced scientists to look for and develop new, better forms of vitamin C. As a result, nowadays you can choose between various skincare products enriched with different forms of vitamin C such as:
Tetrahexyldecyl Ascorbate, also known as Ascorbyl Tetraisopalmitate is one of the latest forms of vitamin C, which is also the most expensive to manufacture. It's very stable and advanced, yet enormously costly. THD Ascorbate is suitable even for hyper-reactive skin.
3-0-Ethyl Ascorbic Acid is an innovative and super stable vitamin C analogue that doesn't break even when exposed to the sunlight or high temperature. Additionally, it's proven to be a potent antioxidant that penetrates skin quickly and deeply. It doesn't cause irritation even if used in high concentrations.
Ascorbyl Glucoside is another pretty stable form of vitamin C commonly used in various skincare products. It's less irritating than pure l-ascorbic acid.
Magnesium Ascorbyl Phosphate (MAP) doesn't penetrate skin fully and is less effective in delivering protection from oxidation. This vitamin C derivative brings satisfying effects when used in higher concentrations (approx. 15%). It's proven to be safe for pregnant women.
Sodium Ascorbyl Phosphate (SAP) is both the mildest and at the same time the less effective among all vitamin C analogues. For that reason it's mostly used by pregnant women and prescribed as a medication for acne.
Vitamin C. 5 top-rated face serums
1. Nanoil, Vit. C Face Serum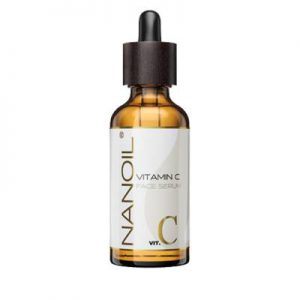 Thousands of satisfied users worldwide confirm that Nanoil face serum gave them the best effects when compared to other top vitamin C skin products. And you can enjoy all the benefits of vitamin C for a really competitive price. Nanoil Vitamin C Face Serum is described as a lightweight and velvety formula enriched with the best form of vitamin C. We love such products, don't we? Big size offers you a few long weeks of beautifying treatment. What effects may you expect to get? Well, there are plenty of them: brighter and renewed complexion, no more sun spots, UV protection, rested-looking face, even skin tone, no fine lines, no spider veins. This wide spectrum of benefits makes it one of the best skincare products for all skin types at all ages. On top of that, Nanoil Vit. C Face Serum is antiseptic, meaning that it's able to remove and prevent acne, including maskne which is a latest skin condition caused by wearing a face mask. More information about the product on nanoil.us.
2. Sesderma, C-VIT Liposomal Serum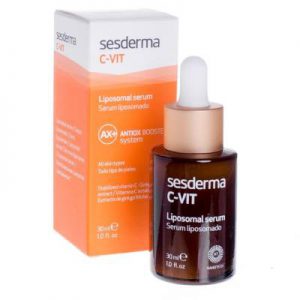 Formulated with a stable form of vitamin C (3-0-ethyl ascorbic acid), Sesderma's product is available at a fairly high price that some users don't consider as budget-friendly. Since this C-VIT Liposomal Serum isn't lightweight, it's recommended for an evening routine. This will give the product enough time to penetrate the skin and do its magic. Favored by those with dry skin, this vitamin C face serum lasts long and is credited with delivering pretty good results. When used regularly, you can expect this serum to even out your skin tone and shield your face from the adverse effects of oxidation. Additionally, Sesderma C-VIT Liposomal Serum helps skin repair faster, meaning that when you look at yourself in the mirror after waking up, you will see well-rested and soft skin.
3. Vichy, Liftactiv Supreme
In a small bottle Vichy hid a skincare product known for delivering pretty good results. Despite running out fast, Liftactiv Supreme seems to be an interesting offering for those who are looking for new solutions. Liftactiv Supreme is a cocktail of nutrients composed to satisfy and add energy to fatigued and tired-looking skin. What are the nutrients? The key ingredients include vitamins C, E and hyaluronic acid which together create a potent face serum able to improve the appearance of skin. Even though Vichy and its Liftactiv Supreme is one of the top rated vitamin C face serums, it's worth pointing out that it's formulated with l-ascorbic acid, which is a rather unstable form of vitamin C.
4. It's Skin, Power 10 Formula VC
This popular face serum gives best results on young skin (25-30 years). Available in the form of milky cream (often described as watery cream), Power 10 Formula VC deals with dehydration and discoloration. Skin treated with this product restores its radiant and well-rested appearance, even if you use it at bedtime. As for the ingredients, this face serum is formulated with a vitamin C analogue and green tea extract, which makes it ideal for oily and combination skin with imperfections. When used regularly, skin becomes brighter and youthful-looking, with no post-acne marks. This lightweight cocktail is destined for morning and evening use.
5. Clinique, Fresh Pressed, Daily Booster With Pure Vitamin C 10%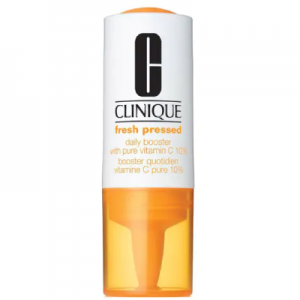 This skincare product can't be described as typical face serum. Even though the producer markets this vitamin C face serum for an intense face booster, users opinions are clearly mixed. Some of them have nothing against the complicated application technique and high price, which obviously isn't to everyone's liking. Therefore, if you're persistent and trust Clinique, you can buy the complete skin treatment – eight 10-millilitre ampules. You can take it for granted that Daily Booster With Pure Vitamin C 10% will get you smoother and younger-looking skin that is pleasant to the touch. By the end of the treatment, your skin is supposed to become firmer and visibly brighter.
Skincare products with vitamin C. Directions for use
Each manufacturer is obliged to provide their clients with instructions for application of their beauty products, and the same rule applies to vitamin C skincare products. What may not be included on the label is that dull skin can be treated with vitamin C cosmetics even twice a day.
Applied in the morning, vitamin C gives you a skin brightening treatment, leaving your face more beautiful. Additionally, morning application of vitamin C improves skin's defense mechanisms, meaning that it's better prepared to fight off free radicals, urban pollution and UV.
Applied in the evening, vitamin C aids your skin in carrying out its self-renewal processes, helping you wake up with smooth and even-toned skin.
Note: There are no contraindications to using vitamin C skincare products during the summer. In fact, applying vitamin C face serum prior to sunscreens may improve the sun protection.