Nanoil Hair Volume Enhancer: Get the Salon-Worthy Volume in Your Hair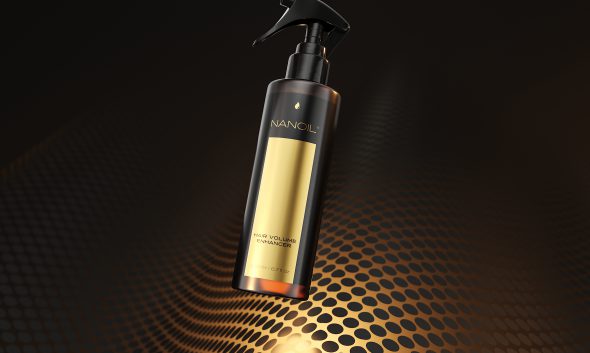 We all want to have beautifully-looking hair, so voluminous and shiny, but for some reason creating such blowouts is tough. If only there wasn't a magic product that would help you pump more volume into the hair… Oh, wait. There is one! It's the Nanoil Hair Volume Enhancer.
A limp and volume-deprived hairdo? That's not a problem any longer. Grab Nanoil Hair Volume Enhancer and transform your lifeless and flat strands into a full blowout that lasts for hours. Trust us, this one product is literally all you need to create the effects you've been always dreaming about. This lightweight spray embraces the hair with a lovely aroma and adds more volume to the strands, so you can enjoy perfectly-looking styles for the entire day.
NOTE: Using too many hair styling products contributes to striping hair off volume. Instead of lifting the roots up, the cosmetic build-up only weighs hair down, flattering your hairdo even more. To avoid that, choose just one but maximally effective styling spray that helps you style your tresses and brings back fullness to your hair.
What makes Nanoil Hair Volume Enhancer so amazing?
What's the secret of Nanoil volume booster? Why does it work so well on all hair types? It turns out that this effect is owed to the innovative and thought-out formula. The well-selected ingredients work to the hair's advantage, helping you create desired results every time. The very ingredients combined together and closed in the black-and-gold bottle: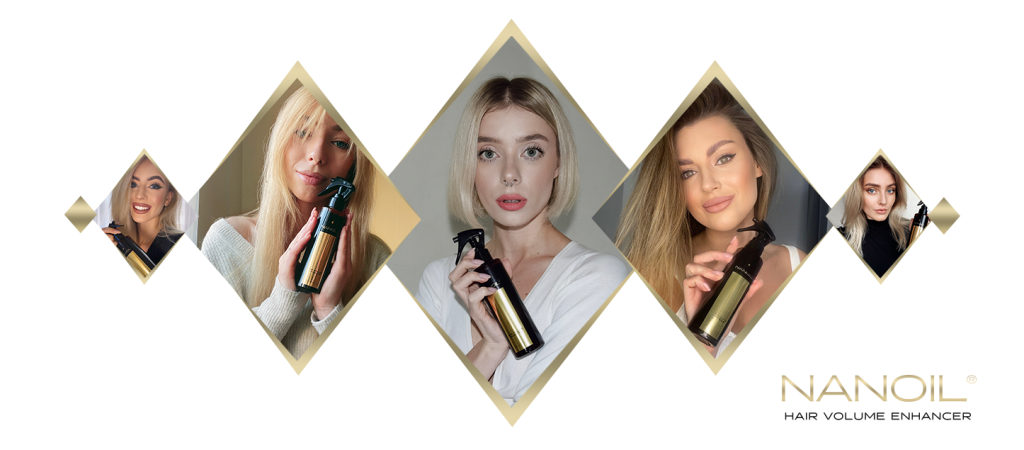 make it easier for you to work with your hair, conjuring up literally any hairdo you want to wear
compose a lightweight formula that neither weighs hair down nor contributes to oily scalp
deliver nutrients, leave hair stronger and promote better-looking hairdos
Nutrients hidden in Nanoil volume enhancer
That's the only such hair styling spray that apart from creating outstanding volume, it also nourishes and strengthens the hair. This effect is owed to the following ingredients:
WHEAT PROTEINS repair hair, making it stronger, good-looking and shiny. Prevent frizz and static. Lock water inside the hair and follicles.
KERATIN is the basic building block of hair. Reverses damage and adds more body to the shafts. Promotes fuller and healthy-looking styles.
PANTHENOL tames unruly wisps, boosts shine and leaves hair sleek. Prevents tangling and delivers moisture.
Quick effects that last all day
The best thing is that you will see the difference after a single use. When applied to the hair, Nanoil Hair Volume Enhancer makes it lighter, more elastic, shiny, smooth and moisturized. What's interesting, the spray doesn't leave you with clumped strands, which means that with this product you can finally create naturally-looking blowouts that last all day. It's also worth pointing out that this Nanoil volume booster keeps your style safe from high air humidity and static that are some of the main reasons why you need to do touch-ups a few times during the day. Luckily, now it won't be necessary because Nanoil Hair Volume Enhancer keeps your voluminous hairdo in place. That's what you can get if you reach for just one product. Visit the official Nanoil store nanoil.us and choose the hair styling spray that delivers lasting results.
Wyświetl ten post na Instagramie
Nanoil Hair Volume Enhancer in a nutshell
Positive reviews
Thought-out formula
Precious nutrients
Big size & amazing aroma
Recommended by hair stylists
Attractive price
Easy to use and remove