Overnight and thorough hair treatment. How to apply oil to hair at night?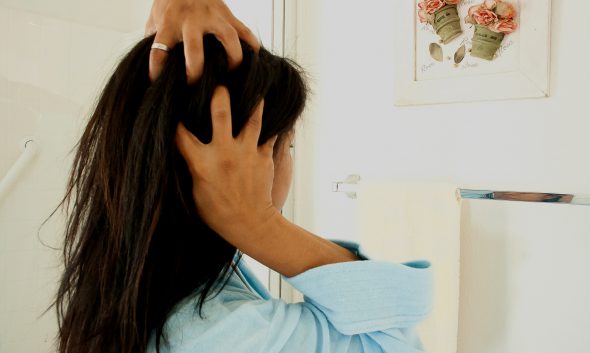 Hair is in need of nutrients that can be delivered in many ways. One of them is overnight hair oiling. Discover the secrets of this wonderful method.
This way of hair care has been known for ages in the countries of Middle East. Not without reason, Bollywood stars enravish with stunning long, thick and glossy hair. It is not an effect of computer interference, but the results obtained through naturally extracted oils.
The question regarding what hair oiling is, arises quite often. In fact, it is a beauty treatment that consists in applying natural oils (or blends of oils) to the hair. This way the hair is provided with proper nourishment and hydration. Concerns that the oil will make the hair more greasy are completely unnecessary. Hair oil treatment properly done give the warranty of healthy and beautiful hair. What is more, properly matched oils prevent frizz, add softness, facilitate styling, and can even boost hair growth. To sum up, they provide everything you expect from a good hair product and never receive it from a drugstore cosmetic.
Overnight hair oiling
There are various hair oiling methods, however, accordingly to many women around the world, doing it overnight brings the biggest benefits. Why? This method is an easy way to provide a range of valuable vitamins, minerals and fatty acids during a few-hour treatment. The night is the best time for such procedures because walking around with wet hair covered with oils might not be possible during the day. Overnight hair oiling is the best methods for those, who tend to wash hair in the morning – simply apply oil before bedtime.
How to do it?
Applying oil for a night treatment is no different than the regular procedure. The only difference is that the substance is left in the hair until the morning and not only for an hour.
The most important step is to select the right oil – the one that will not cause any scalp irritation or itchiness, and that will be well-absorbed. It can be applied either to dry or dampen with warm water hair (in this case it will be better absorbed). Moreover, it is worth rubbing natural oils into the scalp, while oil blends with preservatives or silicones are more suitable for the hair only.
What is more, it is worth remembering to secure the hair, for example, tie it in a bun or braid it. If you are worried about staining the sheets, you can wrap your head in a towel or simply put on a shower cap. Of course, this type of oiling ends the same way – with washing the hair with a mild shampoo.