Report of Hair Oils. Coconut Oil Benefits & Ingredients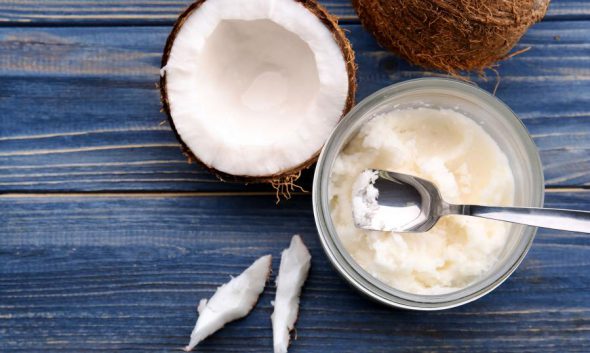 Beauty doesn't come out of nowhere. Applying coconut oil is one of the methods for bringing back the youthful shine to your hair and skin. The beauty benefits of this substance are worth knowing before testing.
Oils in beauty care aren't a novelty. Their cosmetic qualities have been appreciated for ages yet it hasn't been long since we truly started believing in the natural beauty care. It's time to take a closer look at the most popular oils. Coconut oil is one of them – a buttery consistency and a mouth-watering aroma.
Coconut oil is made up of (only if cold-pressed):
– anti-ageing vitamin E
– vitamin A which stimulates the cellular renewal
– a set of B vitamins
– potassium, magnesium, iron, phosphorus, calcium, zinc
Fatty acids are crucial in hair and skin care. In coconut oil, lauric acid and saturated acids prevail. Their percentage content makes natural coconut oil the best oil for low porosity and normal hair and it doesn't work as much for damaged hair (saying it does is just a myth).
Coconut oil cosmetic uses
• It has antioxidant properties so the antioxidants neutralize free radicals and prevent skin and hair damage.
• It reduces hyperpigmentation and evens out the skin tone.
• It infuses skin and hair with moisture, strengthening the lipid barrier which is responsible for blocking the evaporation of water.
• It helps do away with acne and dandruff thanks to anti-bacterial and anti-fungal qualities.
• It ensures smoothness, elasticity and healthy shine.
• It is a natural sunblock, protecting against the harmfulness of the sunlight and other factors.
• It nourishes and reinforces the bulbs and follicles when you massage it into the scalp. As a result, hair may stop falling out excessively.
• It reduces hair frizz and static.
Extra worth-knowing info? You can apply coconut oil directly to scalp and hair. Heat it up first, mix it with other oils or use it as a base for a home mask. It melts in contact with heat.
In beauty products, coconut oil comes under the name of Cocos Nucifera Oil.