Home remedies for dark spots. How to even out the skin tone naturally?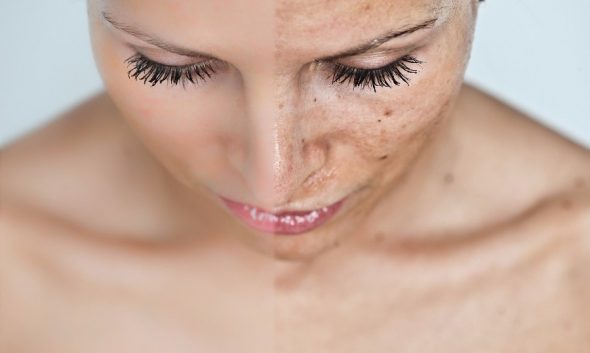 Dark spots on the skin make many people feel inferior and self-conscious, particularly if they affect the face skin. What causes pigmentation spots and how to get rid of them? See the best home remedies and make your skin lovely again.
What causes pigmentation spots to appear?
The skin aging process is the most common cause. With age, the skin's ability to repair is poorer, plus the production of melanin (pigment) is slightly disturbed. As a result, unwanted spots appear on the skin. Still, there are more causes of the uneven skin tone including:
genetic predispositions.
hormonal imbalance.
skin conditions such as acne.
overexposure to the sunlight.
some ingredients in skin-care products.
How to even out the skin tone for a spotless face?
Pigmentation spots don't need to stay with you forever. You can get rid of them and it's not at all tricky (obviously the preventive skin care is ideal). The options that you can choose from when the spots appear on the skin:
home remedies for dark spots – natural oils, brightening products and DIY masks based e.g. on lemon juice or cucumber.
in-salon treatments such as peels, dermabrasion, depigmentation therapy, microneedle mesotherapy and – as a last resort – laser therapy when other procedures fail.
What are the best home remedies for dark spots then?
Before going to a salon, you can try eliminating the spots on your own. What home remedies should you use in the first place?
FACE SERUM – serum containing vitamin C is the best for eliminating pigmentation spots and used every day it evens out the skin tone. Ascorbic acid, or the serum's main component, has a brightening effect and handles the dark spots effortlessly (including post-acne spots).
ENZYME PEEL – using exfoliants is a very good way to lessen the pigmentation spots. Note, though, that you should give up on physical scrubs and pick enzyme exfoliators. This type of scrub activates the natural exfoliation of the epidermis together with the hyperpigmentation.
POTATO MASK – one of the old-time treatments used for eliminating dark spots on the skin. This simple vegetable is high in brightening substances – you just need to grate a raw potato and leave it on the skin for around 15 minutes.
LEMON TONER – another home remedy for pigmentation spots uses a natural lemon face toner. It's very easy to prepare (mix a glass of lemon juice with a glass of water). Used on a regular basis, it brightens minor and slightly larger spots naturally.