A New Level of Hair Colouring with ColorCuts Highlighting Foam Strips!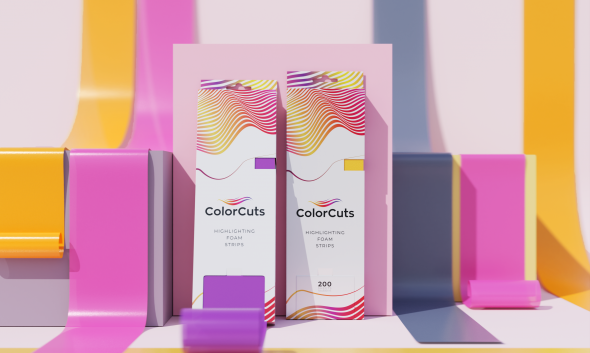 A New Level of Hair Colouring with ColorCuts Highlighting Foam Strips
Still using aluminium foil to colour hair? It's time for a change! Highlighting Foam Strips by ColorCuts is a revolution in hair colouring. The ready-to-use, thermal foam strips can transform any salon and provide comfort during treatments for both stylists and clients. They make every colourist's job easier and reduce colouring time! Discover the innovative foam strips.
Thermal Highlighting Foam Strips for hair colouring
ColorCuts hair colouring strips are made of flexible polystyrene foam. They provide an alternative to rustling and impractical aluminium foil, which can cause irreversible damage to the hair structure. In contrast, the thermal Highlighting Foam Strips optimise the hair temperature during colouring, eliminating the risk of overheated and burnt hair. The strips can be trimmed, folded and bent as you need. The unique coating of the foam strips gains adhesion after contact with the colouring products, so it stays on the hair and doesn't slip off during colouring. The semi-transparent material makes it easy to control the colour change process. These extremely lightweight strips provide clients with comfort during lengthy treatments and are soft and colourful.
Wyświetl ten post na Instagramie
Directions of use: separate a section of hair and place the foam strip underneath. Using a tinting brush, apply the colouring product. Fold the strip in half or cover it with another strip. Finally, gently slide the strip off the hair.
The result? Even, safe and three-dimensional colouring without stains, damage or flaws.
200 ready-to-use strips per pack
Dimensions 10 x 30.5 cm
Made of thermal polystyrene foam
Reusable
Quick and comfortable colour application
Maintain the optimal hair temperature
Suitable for all colouring techniques
Shortens the colouring process
Gentler on the hair than aluminium foil
No damage or irritation
Come in different colours

ColorCuts Highlighting Foam Strips – material and properties
The specialised material ColorCuts strips are made of is a revolution in the hairdressing market. The polystyrene foam has thermo-insulating properties and maintains the optimal temperature of the hair during colouring. Highlighting Foam Strips ensure your client's hair is safe from overheating and damage. The several colours of the strips let you easily distinguish the colours of the hair dyes used to avoid any mistakes.
The ColorCuts brand has designed the innovative accessory with stylists and clients in mind. The lightweight material ensures fast and comfortable multi-step colourings that require sitting for hours in one position. The material is extremely soft and non-irritating for the scalp, ears or neck. Your customers will be impressed by the multicoloured stripes, which also look great in photos and videos.
The material of the stripes is recycled and solar energy is used in its production. The foam strips are an environmentally friendly alternative to aluminium foil. Learn more about the product: www.colorcuts.mt.
---